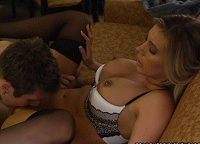 We were lucky, or we thought so….we had the wellness centre to ourselves.
Ahh, the warm water of the hot tub feels soothing. Sitting together, we both talk a bit, kissing and touching. Our passion soon starts to consume us, your kiss feels so good, always stirring my blood. Your hand brushes across my rising excitement, I pull your pert nipples, caressing your breasts. Standing up you take my hand and lead me into the sauna.
Once we get in you pull my towel off and push me back onto the bench in the sauna, with a smile you go down between my legs taking my engorged hard on into your hand. Stroking it, a moan escapes my mouth, your tongue flicks the head, teasing me, I feel one hand caressing my sack. The sensation is incredible as you trace your tongue up and down up cock. My eyes roll back in my head when I feel the warmth of your mouth engulf the head of my cock. You start sucking my cock, pumping my shaft, closing my eyes and leaning back against the wall I get consumed in the pleasure.
Silently the sauna door opens, sensing something I open my eyes and I see a woman standing there, watching you suck my cock. Sitting up a bit at seeing her, you notice another presence, startled, a noise escapes you as you realize the presence of her. She smiles at us and tells us not to stop, my cock is bursting at the seams. I look in your eyes, placing my hands on your head I gently guide you back to my cock. You don't need much encouragement. And the exquisite sensation of your mouth is once again on my cock.
The woman sits down beside me and watches as your head bobs up and down on my cock. She places a hand on your head, gently running her fingers thru your hair. I watch as she leans down, and kisses your shoulder, running her fingernails across your back. I feel my balls swell, the head of my cock enlarging in your mouth, taking your mouth off my cock, pumping my shaft the first stream of my cum blasts into your open mouth. Quickly you take my cock back into your mouth capturing my cum as it pumps out of my cock. My orgasm is so intense, completely drained I slump back.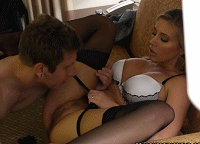 The woman lightly grabs your face and starts to kiss you, sharing my cum with her, you both kiss passionately. Realizing what you are doing, you pull back. Sitting up beside me, I can sense you are tense. My hand finds the back of your neck I start massage it, as I kiss your shoulder, your neck, nibble your ear, your mouth finds mine, and you kiss me fiercely. The woman starts to stroke your exposed breasts, feeling the fullness in her hands, teasing your swollen nipples. I feel you relax and you start to enjoy the attention.
You feel the warmth of the woman's mouth on your nipples, my hand slides down between your legs, pressing against your mound. Feeling you thrust your hips up, I slide my fingers under your swimsuit, you are soaked, I slide 2 fingers in your cunt, wow it is so hot. The woman watches as I finger fuck you, she is rubbing her tits thru her swimsuit, pinching her nipples. Taking my fingers out, I pull your swimsuit off. You spread your legs wide, wanting, inviting me to taste your sweet pussy. I start to kiss your inner thighs, my tongue licks your labia, swirling my tongue around, then sticking it into your hot, wet hole.
The woman has moved her suit bottoms over and is fingering her pussy and tweaking her clit, you watch her as my tongue is fucking your pussy. You start to rub your breasts, twirling your nipples between your fingers. I am taking long licks, teasing your clit, your juices are drenching my face. The woman takes your hand and places it against her pussy, tentatively you slide a finger in her and start to fuck her with it, she starts rubbing her clit vigorously as you fuck her. She starts to say I'm going to cum, I'm going to cum. I feel you start to squirm more, and press your cunt into my face. Oh, oh, oh, I'm cumming the woman yells. That triggers you and your orgasm bursts, flooding me even more, Oh, fuck my cunt, suck my clit, comes out of your mouth. Wow, very intense.
The woman stands to leave, turns to us and thanks us for a most enjoyable experience. You grab me and plant a hot kiss on me, telling me we are not finished yet……..